Casino
Complete turnkey solution for your casino
Solution for starting your online and mobile casino business
Ready-to-use online casino solution for short implementation time
Easy and fast start of your on-line casino bussines
Instant access to over x+ games from y+ providers
Portfolio of x+ games from y+ provider…and still counting
Possibility of seamless 3rd party/wallet integration
Flexible, adaptable delivery, tailored to operators needs and requirements
Multiple ways of integration
Casino tournaments, Bonusing, Loyalty, Freegames and Jackpot engines over all providers
Back office application to full control over the casino
Integration API suite for custom solution
API based design (suite) allows easy integration of any custom solution
EASIT is a software provider with many years of experience that focuses on delivering a modular and API-driven product suite. The company offers a variety of services including casino content aggregator and integration platform.
With variety of providers, we are able to deliver games that range from the latest and most popular slots to live casino table and card games and more. This allows our clients to provide their online casino players with a great portion of fun and entertainment.
Additionally, most games can be played across all platforms – desktop, mobile, tablet – and are multilingual. Moreover, with the Lobby management feature you can highlight games on your site, create custom game categories, review reports on the most popular and profitable games on your site, and add new games to your casino with a few simple clicks.
Omni channel platform
Shops
IVR
VLT
Tablet
Terminal
Mobile
Web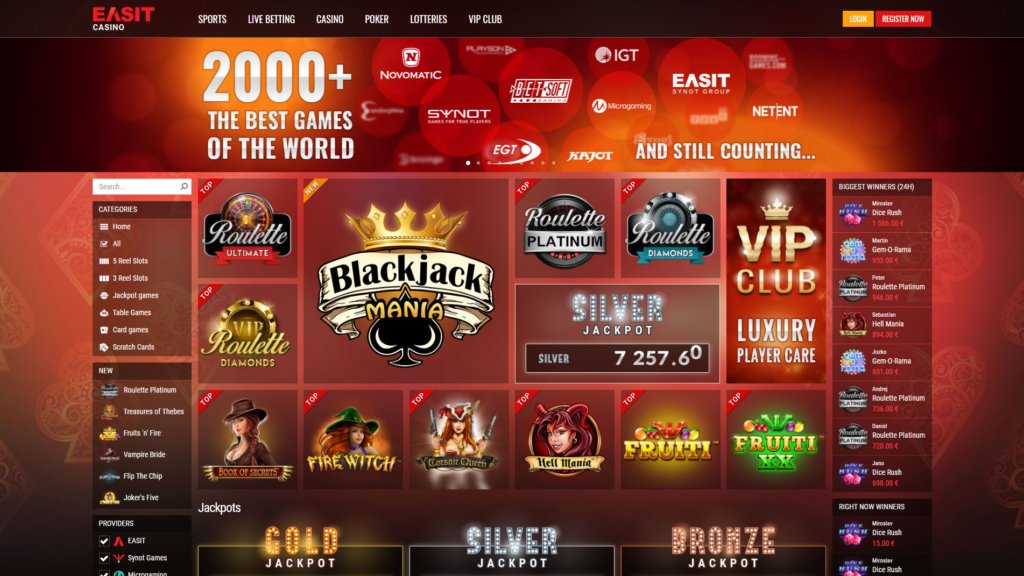 Bonus system
Extend player sessions, increase reactivation and boost retention. The bonus system offers easy configuration of a wide range of casino bonuses in few minutes. Choose the right bonus for your players and surprise them with a variety of options: Freespins, Cashback, Deposit bonus, Win Boost and more. Configuration of bonuses is possible independently of providers, types of games, game groups to target a wide range of players.
Tournaments
Create exclusive competitive environment where players not only want to win the game that they are playing but also against others.
Realtime tournaments with leaderboards and lots of possibilities of the win conditions to further increase player engagement and retention through exclusive competitions. Operators can easily set all tournament parameters within few minutes.
Jackpot
Attract players with a good old jackpot!
The platform is designed with maximum configurability for operators, offering multiple options, contributions and prize set ups as well as the ability to tailor the user interface to match their casino brand.